"The real voyage of discovery consists not in seeking new landscapes but in having new eyes." – Marcel Proust
C.O.R.E Journey
Courage – employing value-based actions
Openness – expanding ways of seeing and thinking
Reflection – engaging mindful living
Energy – manage and renew positive energy
The CORE Journey is a value-based methodology for developing, strengthening, and empowering you to consistently engage your internal power and unleash your power to thrive. It is a systematic, mindful approach comprised of time-tested strategies from emotional intelligence, performance psychology, motivational theory, and organizational development. The CORE Journey is a unified system integrating individual components that are fundamental for sustainable transformation.
The Journey is designed to help you:
articulate your purpose, values and vision
strengthen and solidify your internal power
utilize optimal decision-making and problem-solving
consistently reach your goals
engage value-based action 
manage stress and create balance
develop mindful, empathic communication  
enrich your relationships
boost energy and productivity
sustain positive change
unleash your power to thrive!
(Cairns are stacks of rocks, sometimes called Ducks, placed along mountain paths where the trail isn't clear. They mark the way to the mountains summit. In the CORE Journey, each Cairn signifies a strategy used in the process to help you reach your summit: your goals, purpose, and vision.)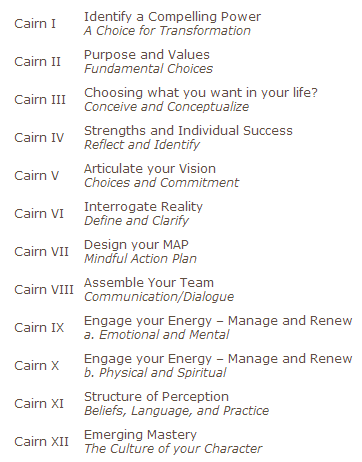 Your outcomes from the CORE Journey are:
personal and professional effectiveness: create what you want; live and work with purpose
mental focus and poise: sustain clarity and control, no matter what the circumstance
well-being: physical vitality, emotional calm, mental clarity, and spiritual alignment
creativity: connect with your internal power for personal evolution
joy: change how you think and transform your life
purpose and meaning: align your life with your deepest values.
Through my experience of being a high-level athlete and over 20 years of coaching individuals, athletes, executives, and teams I've learned and continue to grow in my understanding of what motivates us to evolve and thrive. I designed the CORE Journey for those of you who want an edge in determining and mastering the results you want in your life by strategically aligning your goals with your values and purpose. Throughout the CORE Journey you will cultivate your personal effectiveness so you can be both successful and fully engaged at home, at work and at play.
As a result of your journey, you'll fortify an internal structure that supports your continuous evolution. You'll reinforce your self-direction, mastery and purpose as they become part of the culture of your character. You will broaden and polish the skills you need to thrive.