February
Some of you just received my newsletter. Don't worry, it won't be coming every two weeks, I just wanted to get that first one out to you! From this point on, I intend to publish at the beginning of each month. Enjoy!
Let yourself be silently drawn by the stronger pull of what you really love.
–Rumi 
Think for a moment of a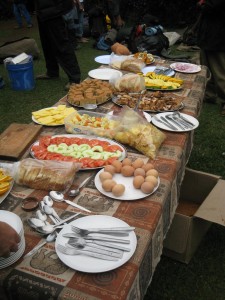 food from your past, one that makes you feel greatafter you eat it for no specific reason. Maybe it is macaroni and cheese, slow-simmered tomato sauce, ice cream cones or potato pancakes. Eating comfort foods (every now and then) can be incredibly healing, even though your rational brain might not consider it highly nutritious.
Food has the power to impact us on a level deeper than just our physical well-being. What we eat can reconnect us to precious memories, like childhood playtimes, first dates, holidays, our grandmother's cooking or our country of ancestry. Our bodies remember foods from the past on an emotional and cellular level. Eating this food connects us to our roots and has youthening and nurturing effects that go far beyond the food's biochemical make-up.
Acknowledging what different foods mean to us is an important part of cultivating a good relationship with food. This month when we celebrate lovers and relationships, it's important to notice that we each have a relationship with food—and that this relationship is often far from loving. Many of us restrict food, attempting to control our weight. We often abuse food, substituting it for emotional well-being. Others ignore food, swallowing it whole before we've even tasted it.
What would your life be like if you treated food and your body as you would treat your beloved – with gentleness, playfulness, communication, honesty, respect and love? The next time you eat your soul food, do so with awareness and without guilt, and enjoy all the healing and nourishment it brings you.
Food Focus: Beans
Beans, or legumes, including peas and lentils, are an excellent source of plant-based protein. Beans are found in most traditional cultures as a staple food, offering grounding and strengthening properties that enhance endurance. They offer a highly usable, highly absorbable source of calcium for the body. A very inexpensive source of high nutrition, beans can be rich, delicious and satisfying, 
Lack of sexual energy is often due to overtaxed adrenal glands and kidneys. Beans are known for strengthening these organs (ever noticed the shape of a bean?) and can help restore vital energy as well as sexual energy. 
Beans have a reputation for causing digestive distress, but this is usually because they have been undercooked or improperly prepared. To help reduce gas-forming properties, soak beans overnight prior to cooking, increase cooking time, add spices like bay leaf, oregano or cumin, or add kombu (a sea vegetable) when cooking.
Recipe of the Month: Easy Beans and Greens
Prep time: 10 minutes
Cooking time: 10 minutes
Yield: 2-3 servings
Ingredients:
1 can black beans (or pinto, red, kidney—your choice)
1 bunch collard greens (or kale, spinach—your choice)
your favorite toppings, such as salsa, avocado or guacamole and sour cream
Directions:
1. In a medium saucepan, heat drained beans. Add your favorite seasonings, if desired.
2. Fill a separate medium saucepan with 1-2 inches of water and bring to a boil.
3. Wash and chop greens (you can use the stems, too) and add to boiling water. 
4. Cook for 2-3 minutes until greens are bright green and tender. Drain off water.
5. On a plate, arrange a portion of the greens, top with a portion of the beans and finish with toppings of your choice. 
This month I'm including a couple recipes. A friend recently asked me to find a healthy version of one of her old favorites, Fried Chicken. She loved it as a child and hasn't fixed it in many years thinking that fried chicken just isn't healthy. Given what we discussed above, if you want old fashioned fried chicken to celebrate once a year, go for it. If you still want to have a bit of health tied to your experience, try oven-baked "fried chicken". The following recipe is a way to enjoy a comfort food without the guilt.
By the way, you can also check out a variety of recipes on my Pinterest page. Go to my website, http://thewrightcoach.com, and go to Pinterest. 
Oven-Fried Chicken
Summer 2003, EatingWell for a Healthy Heart Cookbook (2008), The Essential EatingWell Cookbook (2004) 
Great news—crunchy, flavorful fried chicken can be healthy. We marinate skinless chicken in buttermilk to keep it juicy. A light coating of flour, sesame seeds and spices, misted with olive oil, forms an appealing crust during baking. And with only 7 grams of fat per serving rather than the 20 in typical fried chicken—that is good news.
INGREDIENTS
1/2 cup nonfat buttermilk, (see Tip)
1 tablespoon Dijon mustard
2 cloves garlic, minced
1 teaspoon hot sauce
2 1/2-3 pounds whole chicken legs, skin removed, trimmed and cut into thighs and drumsticks
1/2 cup whole-wheat flour
2 tablespoons sesame seeds
1 1/2 teaspoons paprika
1 teaspoon dried thyme
1 teaspoon baking powder
1/8 teaspoon salt
Freshly ground pepper, to taste
Olive oil cooking spray
(If your memory of your favorite fried chicken didn't have some of these ingredients, for example, my favorite doesn't have thyme, simply don't include it.)
PREPARATION
Whisk buttermilk, mustard, garlic and hot sauce in a shallow glass dish until well blended. Add chicken and turn to coat. Cover and marinate in the refrigerator for at least 30 minutes or for up to 8 hours.
Preheat oven to 425°F. Line a baking sheet with foil. Set a wire rack on the baking sheet and coat it with cooking spray.
Whisk flour, sesame seeds, paprika, thyme, baking powder, salt and pepper in a small bowl. Place the flour mixture in a paper bag or large sealable plastic bag. Shaking off excess marinade, place one or two pieces of chicken at a time in the bag and shake to coat. Shake off excess flour and place the chicken on the prepared rack. (Discard any leftover flour mixture and marinade.) Spray the chicken pieces with cooking spray.
Bake the chicken until golden brown and no longer pink in the center, 40 to 50 minutes.
TIPS & NOTES
Make Ahead Tip: Marinate the chicken for up to 8 hours.
Tip: No buttermilk? You can use buttermilk powder prepared according to package directions. Or make "sour milk": mix 1 tablespoon lemon juice or vinegar to 1 cup milk.
NUTRITION
Per serving: 224 calories; 7 g fat ( 2 g sat , 2 g mono ); 130 mg cholesterol; 5 g carbohydrates; 0 g added sugars; 34 g protein; 1 g fiber; 237 mg sodium; 400 mg potassium.
Nutrition Bonus: Zinc (24% daily value)
Energy Management Tips
[gn_box title="Energy Management Tips" color="#e2a04b"]Physical Energy Domain: Let's make February "Enjoy Your Lunch" month! When was the last time you actually sat in a comfortable space and enjoyed your lunch without multi-tasking? Find a place that you will enjoy and take pleasure in your noon time meal. This brief respite will help energize you for the afternoons activities. Try to do this two times this month. If you can do this more then twice, great. The ritual of creating a space where you savor your lunch will begin to create a sense of balance and happiness and actually renew your energy. You'll find yourself much more able to sustain your energy for the rest of your day.
Emotional Energy Domain: At the close of your day, write down three things that went right. Reflect. Then, write three things you're grateful for. Reflect. Do this every day for a month. You may want to keep these in a notebook. I like the Moleskin Notebooks which come in varying sizes and colors. 
Mental Energy Domain: What are your interests? Make a list of activities that you enjoy and bring a smile to your face. For example, take a bike ride with family, play cards, go to a concert or play, take a photography class, make a special dessert and have friends over to share. Intentionally schedule one thing in your life that makes you feel really good each week. Activities that we enjoy create energy and also are a good way to renew our energy. 
Spiritual Energy Domain: Be kind to yourself. A lot is expected of us, and measuring up to expectations puts pressure on us to perform. "Be kind to yourself" suggests that we lighten up, that we slow down and treat ourselves decently. The basics of being kind to yourself is simply "having a cup of tea." We can do so quite literally – taking a break and enjoying a cup of tea, savoring the flavors and aroma, perhaps with a cookie or cracker and cheese. We slow down and give ourselves an open moment where we can appreciate the world around us with no agenda.[/gn_box]
Forward to a Friend
It's such a pleasure to help those closest to us become happier and healthier. Please forward this newsletter to friends, family members or colleagues who might be interested and inspired by it. 
Make this a great month!!